The molds or tools used for forming and mass producing composite parts can be made of many materials. However, for mass production of complex high performance aerospace composite parts, the material has to be hard enough to maintain its dimensional and surface finish characteristics. The most common material for commercial and military programs that I have seen during my plant tours is invar (64FeNi), a high performance metal with low coefficient of thermal expansion.
Due to high cost of invar tooling, commercial and military programs like the Airbus A350, Boeing 787, and JSF F35 design their own tools and allocate them to their program production partners.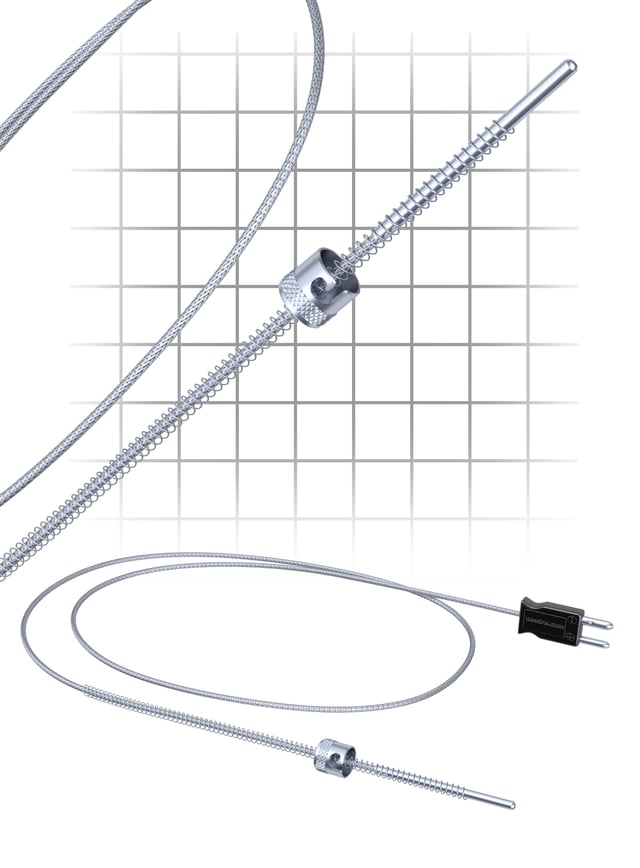 The AccuClave® Tool Thermocouple, shown above, is designed to address the pitfalls of invar tool TCs.
Before a tool can be put into production, extensive thermal profiling is performed utilizing disposable thermocouples (T/Cs). Thermal profile information tells you what temperatures your product reached, for how long and at what point of the curing process. This critical information helps the production team set up the lead and lag temperature of the tool T/C location and part thermocouple location, ensuring that the final product is correctly cured inside the autoclave.
A few products, like our AccuFlex™ flat profile thermocouples, are exclusively used in tool profiling application on several commercial programs. Also, after years of being asked to provide a cost effective replacement product, TE Wire introduced a replacement tool T/C.
Prime and Tier supplier production facilities I have visited hardly ever talk about their tools or tool T/Cs. Most of our discussions revolve around part temperature measurement utilizing our AccuClave thermocouple system. However, most tools once profiled almost always have one or more tool T/Cs integrated into the bottom of the tool. Although, tool T/Cs are used in combination with part thermocouples, some commercial and military programs entirely use just tool T/Cs for their temperature recording during composite curing. Unlike part T/Cs that get scrutinized and replaced after each cure, tool T/Cs that remain installed fall into below pitfalls:
Tool T/Cs are often overlooked when it comes to regular maintenance.
Damaged lead wires at transition or on connector side render tool T/C useless.
Tool T/Cs remain on the tool for years without being recalibrated.
Constant movement can abraid the insulation causing the circuit to short out.
The bottom line, unlike part T/Cs, tool T/Cs are often left as an afterthought and only checked after a failure occurs. Rather than leave tool T/Cs to chance, manufacturing organizations should be proactive about their maintenance, re-calibration and replacement schedules.
Based upon our continuing efforts in the aviation and aerospace composites space, the TE Wire team believes that, with a for your invar tool, we can help you perform better maintenance and let you focus on making quality composite aerostructure parts.
To learn more about the AccuClave Invar Tool Thermocouple, click here.