Have you been following TE Wire & Cable and Plataine recent partnership to develop the next generation of smart thermocouples? The IIoT Smart Thermocouple will be the first ever Smart Thermocouple system for the aerospace composite curing industry. This state of the art system is optimized for automated traceability of thermocouples! It's simple architecture connects our Smart RFID embedded Thermocouples and delivers never before seen intelligence to your production process. But what does this product mean for thermocouples in the Industry 4.0? With the combination of Plataine software, hardware infrastructure, and TE Wire's New Smart AccuClave Thermocouples, the AccuClave Smart Thermocouple System tracks location and duty cycles and run analytics. For the end user can generate important insights to your composite manufacturing, improve efficiency and quality, and optimize thermocouples refurbishment and retirement.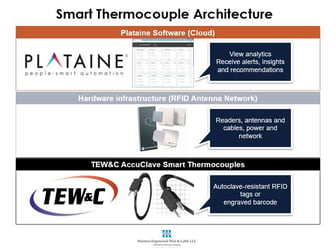 Use Case 1: Location Tracking
The Plataine Material & Asset Tracker (MAT™) for the AccuClave Smart TC allows customers to track thermocouple movement as it moves from station to station and view thermocouples on site map using a web browser. This saves time on searches, can help avoid production delays due to missing thermocouples, automates replenishment of thermocouples, reduces thermocouples loss/misplacement, and improves site visibility!

Use Case 2: Thermocouples Utilization
Features include: monitoring thermocouples' autoclave duty-cycles, presenting thermocouple history, triggering (visual/audio) alerts for thermocouple refurbishment, calibration or 'end of life', and allowing access to calibration history for NADCAP. The benefits of this use case demonstrate improved quality compliance, digital traceability and audit readiness, reduced risk of overusing thermocouples, and extending thermocouple usage and utilization (within permitted spec).

Use Case 3: Scale Up, Tracking Additional Assets Throughout the Supply Chain
The MAT™ in AccuClave Smart TC Solutions:
Tracks raw material, WIP, and finished parts

Manages sensitive materials' shelf life and get related alerts

Maintains the Digital Thread, inheriting properties from raw materials to parts, as well as pairing of thermocouples to molds and parts

Monitors mold autoclave duty-cycles

Creates audit-ready data of all activities and assets

The benefits of MAT™ include improved quality compliance, digital traceability and audit readiness, and reduced risk of using expired material or overused molds.

To learn more about the IIoT Smart Thermocouple, click HERE for your free brochure!