What do you do with your used thermocouple wire? Does it get thrown out along with your trash? If so, then it's time to examine the financial and environmental reasons for starting a thermocouple wire recycling program.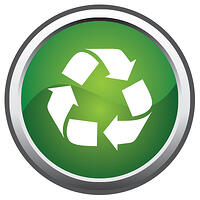 (NOTE: Companies like Specialty Metals deal exclusively with precious metal bearing materials. There are buyers for base metals, but generally, they like to see large volumes at a time.)
Original equipment investment: Let's face it—equipment in temperature-intensive applications tends to wear out quickly. You could just discard and replace the used equipment. But what about the money you spent on the original equipment? Instead of just throwing it away and creating more waste, try to recoup some of your original investment by extracting the thermocouple wire and recycling it.


Precious metal values: If your day-to-day operations involve temperature measurement, heating or cooling, chances are you probably have more than enough used thermocouple wire lying around to make a tidy profit. Your used TC wire may contain valuable precious metals including rhenium, palladium, molybdenum, platinum, nickel, tungsten, rhodium and gold.

USEFUL TIP: Check out the top right-hand side of this page: http://www.specialtymetals.com/ for current metal prices to see how much money you might be able to recover for your company through recycling.


Nationwide economic benefits: Recycling helps contribute to the U.S. scrap metal recovery efforts, which "supports more than 450,000 American jobs and generates $10.3 billion in revenue for federal, state, and local governments," according to a 2011 article on Forbes.com.


Environmental impact: Each year, more than 130 million metric tons of obsolete scrap metal/electronics are transformed into useful material, conserving significant energy and natural resources. (Source: Institute of Scrap Recycling Industries). Your recycled TC wire is staying out of the landfills and being put to good use.


Need more convincing? Check out this article from Specialty Metals: "Why Used Thermocouple Wire Is a Top Candidate for Profitable Recycling" to see if TC wire recycling is right for you.
Ready to get started? Stay tuned for Thermocouple Wire Recycling Part II.