Whether you're an end user, buyer, supplier or distributor of wire and cable in the industrial OEM space, when you're looking for technical specifications and additional information, these top four products are a good place to start:
1. Copper Instrumentation Cable
(Also available in Zetabond Construction)
Individual/Overall Shield – UL Listed 300V PVC Insulated
Rated 221°F (105°C), flame retardant
Passes IEEE 383 and VW-1 flame tests
Options: TPE and CPE constructions also available

Applications: Instrumentation circuits for refinery plants and petrochemical plants to measure pressure, flow and transmit low voltage signals to instrument or control room. Gas turbine skid and PLC wiring. Furnace and other industrial equipment wiring.

2. Thermocouple Extension Cables (Individual/Overall Shield)

UL Listed 300V PVC Insulated
Rated 221°F (105°C), flame retardant
For use in NEC Article 725 Hazardous Locations (Class 1 Division 2)
Options: FEP 400°F (200°C) constructions also available

Applications: Thermocouple circuit for temperature equipment such as Furnaces. Wiring sensors in engine testing rigs. Temperature harness development.

3. G-Glass 950°F Braided Glass
Maximum single exposure temperature 1200°F (650°C)
Continuous 950°F (510°C)
Options: Double glass braid insulation, metal coverings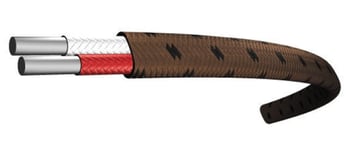 Applications: Lead wires for temperature sensors. Low temperature furnace surveys and heat treatment. Laboratory testing. Plastic processing temperature measurement.

4. High-temperature FEP Insulated Wire
Continuous use up to 400°F (200°C), flame retardant
Passes IEEE 383 and VW-1 flame tests, chemical resistant
Options: Metal overbraids, twisted/shielded pair, multi-pair cables

Applications: Food processing plants. FDA approved sterilization applications. Lead wire for temperature sensors. Specialty high temperature aerospace applications where standard cables will not survive.
As you can see from the above list, TE Wire offers high-quality T/C wire and thermocouple extension cable solutions for a diverse variety of high temperature industrial applications. Depending on your requirements, the products you choose may include one or more of the following:
Certified for use in hazardous locations (intrinsically safe)
Flame retardant
Chemical resistant
Additionally, we have an ISO 17025 accredited lab right on-site. This allows us to further guarentee the accuracy and high-quality of every spoil of wire and cable manufactuured in our facilities.
Do you have specific or unique requirements for your thermocouple wire and cable applications? Not a problem. We also provide custom engineering and manufacturing capabilities. Don't hesitate to contact us to review your project's needs.
Learn More