Have you ever been completing a task, deep in concentration, and suddenly you're interrupted – a coworker with a question, you ran out of staples, you lost your pen – and now you've lost that concentration? It takes you extra time to get your train of thought back, and you're more likely to make costly errors. Something so simple as a mis-placed tool can distract anyone, whether in the office or on the shop floor, from the task at hand.
I think everyone can certainly relate to the desire to simplify and improve our daily tasks at work. As the Continuous Improvement Engineer at TE Wire, I'm always looking for new improvement opportunities all the time. This is why we've made our shipping department the most recent effort to apply the tried and true 6S methodology across the plant.
What is 6S, you may ask?
It stands for the following six important actions:


S

ort

S

et

S

hine

S

tandardize

S

ustain

S

afe work environment
Through the 6S organization process, we've decreased the amount of distractions and time spent searching for tools while also simplifying and standardizing the flow of product through the department.
Not only did we find that we had room for improvement in where and how our tools and materials were kept, but we found some great improvements to our paperwork and information flow throughout the shipping process as well. Ensuring that all shipping documents are easy to find at the point-of-use helps streamline things so that our operators can be better focused to get our customers the right product at the right time – the first time!
In just a few months, we have already seen a month-to-month improvement in on-time shipments from the combination of 6S events that we have done throughout the TE Wire plant. One of our thermocouple wire manufacturing cells now sees 100% on-time delivery performance! We will provide updates on our progress in future blog posts.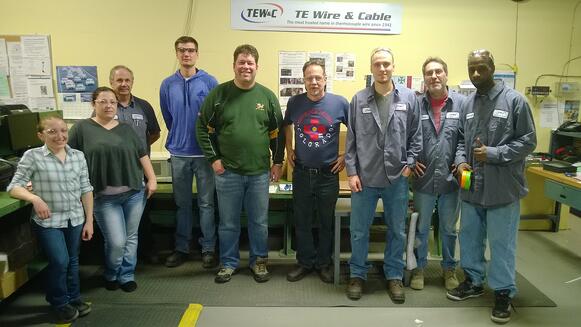 A big congratulations to the TE Wire team for working hard to make a place for everything and keep everything in its place. Meet the team (from left to right): Dana Weinstein, Carla Fernandez, Peter Uzar, Mark Peters, Ian Savage, Pat Arnone (VP Manufacturing), Chris Curriero, Tony Ferreira, Fernando Moore
What questions do you have about 6S and the continuous improvement processes being implemented at TE Wire? I'll use these questions as future article topics.
Learn more: Collaboration Leads to Innovation in Wire and Cable Design