Spotlight Series on Temperature Measurement
Since World War II, thermocouples have played a key role in the aerospace and aviation industries. From providing thermocouples that helped monitor the exhaust gas temperature of the "Flying Fortresses", to supplying sensors that help monitor aircraft composites, to providing the sensors in astronaut power packs, our history in aerospace is a long one. At the heart of each of these applications is the need for reliability across a wide range of temperatures as well as accurate temperature monitoring.
In the aerospace industry, sensors play a key part in temperature regulation and monitoring. In one scenario, when engineers at a major aircraft manufacturer needed to know the temperature of a wing in an inert atmosphere while the outer skin was bonded to the spars, TE Wire was tasked with providing the proper sensing technology. For jet
engine exhaust applications that require miniature and relatively inexpensive thermocouples, the thermocouples must also be able to withstand jet velocity, mechanical shock, vibration and cold-start to hot temperature in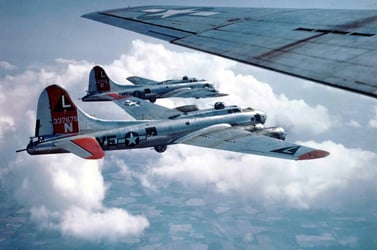 seconds. At times, engineers may need to measure jet engine gases, so they utilize stagnation type sensors to slow down the air flow for more accurate readings. Sensors with excellent heat transfer are ideal for analyzing surface temperatures.
High temperature wire and cable products are also important for aerospace applications. Thermocouple wire products with FEP, PFA, PTFE tape or Polymide tape can be used in the quality verification of curing temperatures during bonding applications of structural components. When heat treating large components, however, braided high temperature wires (Type G, Q, HG, CEFIR – also includes B fiber) would be the ideal solution. In all of these applications, these wire types are ideal as they are seldom impacted by elevated variations in temperature.


The aerospace industry is unique, with tight quality control and high specification tolerances and the increased likelihood of encountering critical temperature measurements in a variety of situations. Whether for an airplane, satellite, or other aerospace application, TE Wire's products are designed for heavy, powerful use with a wide array of systems. The premade, leakproof, BAC 5621 compliant AccuClave thermocouple wire system takes high-temperature toughness and couples it with flexibility -- from the AccuClave-X extension cables to the AccuConnect multi-circuit thermocouple extension cable harnesses.
It's important to consider sensors, wires, instruments, and panels that can withstand the rigorous requirements and extreme durability required by aerospace applications. From jet engine exhaust measurement to heat treating large components to controllers designed for heavy aerospace use, TE Wire can help identify solutions that meet even the most difficult engineering challenges.
If the solution doesn't yet exist, we've been known to work with customer's and their challenging applications to help develop one.
See also:
To learn more about AccuClave for aviation and aerospace applications, download the infographic.