I wanted to take a moment to acknowledge another milestone for one of our sister companies, CCPI Europe. On July 2nd, they celebrated their second anniversary as an integral part of the Marmon Engineered Wire & Cable Group / a Berkshire Hathaway Company.
Congrats to the entire CCPI team!
Located in Sheffield UK, CCPI Europe Limited was acquired by Marmon Engineered Wire & Cable on July 2nd, 2015.
Strategic to the CCPI Europe acquisition was our future partnership with them. Since 2015, the European team at CCPI has received extensive product training on TE Wire's superior range of calibrated thermocouple cables and extension wire including the highly successful AccuClave® series of calibrated thermocouple sensor assemblies for use in aviation/aerospace autoclave composite curing applications.
One of the most recent developments of the partnership with CCPI and Cambridge Enterprises is our low-drift Type K thermocouple cable for aerospace applications. The team on both sides of the Atlantic are working hard on the beta testing and launch of this unique product innovation.
"Our relationship with both TE Wire & Cable and The Marmon Group has made significant contributions to the business in a relatively short time," said Jonathan Golding, Managing Director at CCPI Europe Limited. "CCPI Europe continues to offer our European customers the most accurate calibrated temperature sensors for highly demanding applications in the field of heat treatment processing supporting the European aerospace markets, through to calibrated thermocouple cables for metallurgy processing applications."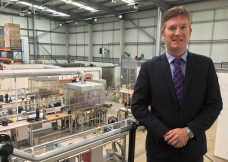 Jonathan Golding, Managing Director at CCPI Europe Limited.
Over the next few years, the company's continued growth will be driven, in large part, by supplying high-accuracy, high temperature thermocouples to the European aviation and aerospace composites market.
"This is a very exciting time for our company," continues Golding. "We have several new product developments entering the markets. Additionally, future transformative growth will be driven by the development of software solutions and services—everything designed to add ever-increasing value to both our existing and new customers across Europe."
CCPI Europe Limited will continue to stock and supply a number of products for which they've become well known, including Flux Pipes, Riser Tubes, Syalon Sheaths and numerous thermocouple and sensor accessories.
To learn more about CCPI Europe and the Marmon Engineered Wire & Cable group, download our brochure.
Learn More: