The benefits outweigh the risks when investing in new autoclave thermocouples for your composite curing operations.


In true David Letterman-like fashion, here are the top 10 benefits of using TE Wire's patented AccuClave autoclave thermocouples.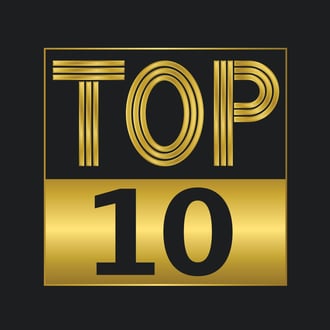 Eliminate pesky vacuum leaks forever and ever!
Yes it's true. There are no leaks with our pre-made AccuClave thermocouples. It's not every day in the world of thermocouple that you hear leaks aren't present. Leaks can completely ruin your part, cost you lost time, and lost money. Leak-free is the way to be.


Reversed polarity will no longer ruin your day.
Many who hand-make their own TCs have converted to using AccuClave for this very reason. Let's face it, we're only human. Ever hear of MTF Syndrome (Moving Too Fast)? Under time pressure, even the most talented and thorough people can make big mistakes which can cost you a customer if your TCs aren't made properly. Keeping those polarities in proper order during manufacturing is an imperative. Don't leave it to chance.
No loosey-goosey connections with pins.
One complaint we hear frequently within the aviation/aerospace composites industry is in regards to loose pins. The tightness of the pins within the connector really matter. If there are loose pins, your connector won't stay in place, not to mention it could contribute to leaks. At TE Wire, we make our molded connector on all AccuClave products with tighter pins during the assembly phase.
Molded plugs are your friend.
It isn't just about eliminating loose pins. To me, molded plugs are a no brainer. They add a clean, simplified finish to the design of the product. The TRAC identification number is on them (more about that later!). There are no screws or covers that could ever pop off, get lost, and risk letting in those pesky leaks leading to a ruined part.
No stripping allowed (or required).
Yes, stripping the insulation at the vacuum seal is a thing of the past. Traditional TCs frequently need to have the insulation around the junction stripped back and installed under bag seal and through the tacky tape, which is less than optimal. Should there be leakages, you're out of luck. The AccuClave design completely eliminates this issue, removing the need to strip the insulation back. Because the insulation material is bonded to the conductor through vacuum extrusion, you don't need to strip it away from the conductors to achieve the under the bag seal through tacky tape.
Red tagging be gone!
It's standard to experience faulty tc's when you're making your own autoclave thermocouples. This is why "red tagging" or "QC tagging" and nonconformity reporting are so common. When a tc isn't working properly it is tagged and reported sometimes for repair or for removal. Straight from our customers, one of the key features of our AccuClave product is that you can expect to see the amount of tagging to diminish and reduce to almost zero.
BAC5621 Accepted by NADCAP. Guaranteed.
The temperature control standards and specifications for processing materials for Boeing, known as BAC5621, is a primary standard for temperature control and monitoring for ovens and autoclaves and other equipment. We are BAC5621 compliant. In addition, NADCAP, the industry-managed aerospace auditing body also accepts our product during routine compliance audits.
Quality is second to nothing.
We test 100% of our product for quality 100% of the time. No exceptions. We have quality control measures in place at our factory and our esteemed Quality Department is always on duty to ensure that the product you purchase is meeting and exceeding all of your expectations. We test for leaks, loose pins, polarity, and more before the product is shipped.
Traceability is a few keystrokes away.
Do you hate paperwork? No doubt, it's one of your pet peeves. Keeping that paperwork in order is also a headache. It can be the most tedious and daunting task in your processes. Thankfully, TE Wire's TRAC traceability system can help! TRAC makes traceability easy. Simply type the TRAC ID number from the back for your AccuClave connector, you can pull up pertinent calibration and order information that would be needed during a NADCAP audit. This information is maintained in our AccuClave TRAC database, so it's available again whenever you need it.
AccuClave products come from a 3,000-foot maximum certified spool.
In case you couldn't tell by now, we take our quality seriously at TE Wire. That is why all AccuClave products come from a 3,000-foot maximum certified spool tested at 32, 250, and 500°F. This certification process applies to all our tool thermocouples as well. Cutting the maximum spool length at 3,000-feet and at those listed temperatures helps maintain consistent quality throughout the manufacturing process.
If it makes cents (and sense), it makes dollars, right? As with anything, buying quality product will get you quality results. If you lower the TC quality, you will most likely lower the quality of your results. Whether that's with a customer, in the lab, or when working on your own applications, you get quality product when you buy from a quality American manufacturer like TE Wire & Cable.


Don't take my word for it. Contact one of our friendly, knowledgeable sales representatives to discuss your application and see if you qualify for a FREE AccuClave sample.


Learn more…
4 New Year's Resolutions Every Autoclave Composites Manufacturer Should Make
Aerospace Composite Manufacturers: How NADCAP & AMS2750E Grow Business
Top 5 Things You Should Know about Autoclave Thermocouple Junctions
Voice of Customer on Aerospace Composites Autoclave Thermocouples