Aviation/aerospace autoclave composites manufacturers face numerous challenges when it comes to accurate temperature monitoring during composite curing. We hear first-hand about those challenges when we meet with clients at shows like SAMPE and CAMX. Those challenges include...
Loose connectors and leaks under the bag
Inaccurate, unreliable autoclaves thermocouple

performance.

Lost time and increased scrap due to

poor junctions.

T

ime-consuming and expensive

refurbishing of TCs prior to new cures.

BAC 5621 compliance and ease of traceability

for NADCAP audits.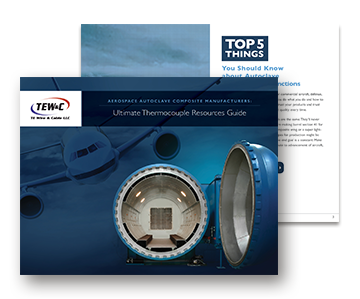 I'm pleased to announce the availabilty of our new Ultimate Thermocouple Resources Guide for Aerospace Autoclave Composite Manufacturers. This guide provides you with a wealth of thermocouple wire and cable information that helps improve your composites manufacturing operation's efficiency while reducing the waste typically caused by hand-made thermocouples.
Download your free copy of the guide to learn the answers to these questions:


How can I eliminating vacuum leaks?

Is it possible to save up to $3000/month per autoclave?

Can I reduce my overall setup time by more than 40-50%?

What's the best way to resolve erratic temperature readings?

Is there an easy way to provide traceability data for NADCAP audits?
The e-book, provided in an interactive PDF format, outlines the answers to these questions and more.
I'd recommend you keep the guide on your desktop, laptop or tablet for quick and easy reference. Additionally, as we update the guide with more technical insights and product technologies like Smart Thermocouples, we'll send you update notices so you can keep up-to-date with all the latest information.
I also welcome your input for future editions including any feedback on how we can make the guide more useful to you.
Learn more: