Industrial Heating magazine recently featured an article by Trevor Ford, Technical Director of CCPI Europe Ltd. on the development of the mineral insulated low-drift cable (LDC) technology with the Department of Materials Science and Metallurgy at the University of Cambridge.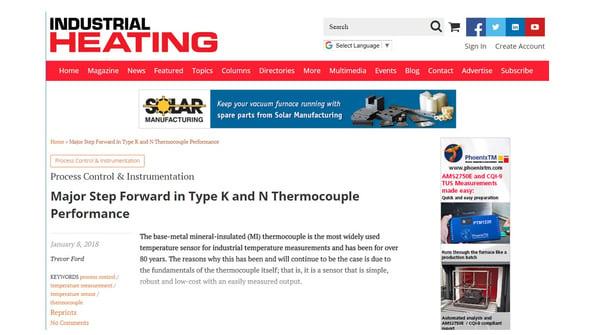 One percent increase in sensing accuracy can generate significant financial impact, what can 80-90% do? With progression in data analytics and AI, better, more accurate sensing will play a significant part in the future of IoT and preventative maintenance.
"This low-drift development in mineral insulated (MI) type K and N sensor technology not only gives a major leap forward in low-drift temperature measurement performance but also provides a sensor that can increase the confidence directly in those everyday industrial temperature measurements." - Trevor Ford, CCPI Europe Ltd.
LDC is especially useful in thermocouple applications that require:
High temperature measurement.
Nearly identical looking to standard MI.
Highly accurate sensing with low drift.
No need to change any processes in existing applications to accommodate the new product.
You can read the full article here:
Process Control & Instrumentation: Major Step Forward in Type K and N Thermocouple Performance
Learn More…