Are you in the aviation/aerospace market? Do you manufacture aerospace composites?
Then no doubt you are aware that CAMX 2016 is right around the corner. The exhibition booth spaces have been sold out for months. It helps that a well-known Mickey Mouse operation is located next door. I may even visit Disney's California Adventure Park myself.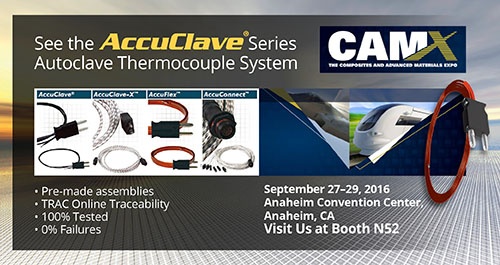 All kidding aside, CAMX is the premier composites and advanced materials expo of the year. Everyone who is attending is invited to explore the ever-growing world of composite suppliers and manufacturers. Exhibitors and visitors alike will have an opportunity to learn more about the latest technical advances, industry trends and to question experts regarding solutions to their unique problems and challenges.
I'll be there September 27th through 29th at the Anaheim Convention Center in Anaheim, California with the TE Wire & Cable team. We're quite excited to have a corner booth this year -- N52.
We will be introducing a new product into our innovative AccuClave® line -- composite tool thermocouples. Several custom tool thermocouple designs by our engineering team have already found home in some interesting tight space, air and surface temperature measurement applications on commercial composite tooling programs.
The TE Wire engineering team has developed this line of tool thermocouple sensors to be highly accurate, rugged and maintain the NADCAP required certification records as does our entire AccuClave product line. It's as easy as entering a few characters in our online TRAC traceability tool. (View the video.)
We're excited to share this new product with you. It is the culmination of our ability to innovate new solutions for aviation/aerospace composites manufacturers while applying 75 years of experience. The end result is that these tool thermocouples meet or exceed all the requirements of BAC5621k and AMS2750E.
Also on display will be composite parts manufacturers' favorites such as our patented AccuClave premade part thermocouples and our AccuFlex minimal mark-off repair thermocouple. Both products deliver many benefits not found on competing or self-made thermocouples. In combination with the AccuClave-X and AccuConnect harnesses, the TE Wire AccuClave products save time and money. The AccuClave premade thermocouples are used around the world for composites manufacturing part lead/lag temperature measurement.
Stop by our booth N52 and see the key features of the AccuClave products such as molded-on plug with no loose screws, no vacuum leak design, minimal surface mark-off, and the on-line TRAC traceability for easy NADCAP audits.
TE factory engineering and application experts will be at CAMX to listen to your problems and to offer money saving solutions for temperature measurement in composite part curing in autoclaves, ovens or presses.
Be sure to stop by and visit us at booth N52. We'd love to chat with you.
If you'd like to pre-schedule an appointment with us to guarantee some time with one of our knowledgeable engineers to discuss your unique application, click here.
Learn more: